My initial thoughts on social media post had the alternate title of "An Ode to Twitter," gesturing to my love of the microblogging platform. When I entered this class, I considered myself to have a pretty solid understanding of social media and yet also realized that it seemed like an untapped resource. I ended the blog post by saying that social media was both a way to connect with others and a marketing strategy.
As if that even comes close to covering the breadth of it all. Social media is so much more than Twitter or marketing.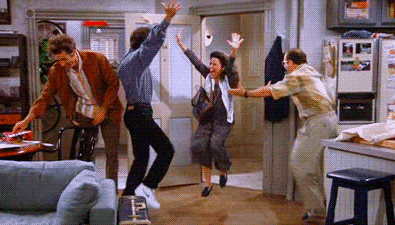 Social media is about collaboration and constant communication. It can open up the realms of communication between companies and customers or within companies themselves. It can challenge our ideas of what is considered connecting with other people on a deeper level. Social media can expand our minds and worlds and allow us to place our trust in complete strangers. Or it can filter content for us and give us a limited view of the world, showing us only clickbait headlines. It can be oh so cool and a web producer of SNY (Mets' TV channel) as well as the new social media director can find and like my post about the Mets and their social media community (excuse me while I faint). At the same time, it can be heartbreakingly destructive and used to promote dangerous behaviors.
 So, as the semester draws to a close, here are my final takeaways:
Be smart about social media.
The Internet is permanent. Everything you put out there will stay out there, so be conscious of those pictures you're putting up from Halloween (I'm looking at you, Boston Marathon girl and Twin Towers girls)…
…or if you're in charge of social media at your company. The choices you make will stay present on these channels for a long time. Whether you knew it or not, when you created your Facebook, Twitter, etc., you created your brand. And, just like a business needs to be conscious of all the content they're putting out there, stay true to the voice you want people to hear and stay conscious of what your posts say about you.
Social media can form communities, both good…
Social media can often be frowned upon because it seems as though we're not forming real connections and we no longer know how to have real conversations. But in the less extreme cases, you can see sports fans connecting over their wins or heartwrenching losses, businesses using social media as customer service to hear their customers' needs, companies crowdsourcing solutions, or even ordinary people sharing the uplifting moments in a horrible tragedy, i.e. the Boston Marathon.

We're able to connect with individuals and companies in real time. We're able to meet other people with shared interests and befriend strangers. We're able to trust strangers to give us a ride or a place to sleep with sharing economies. I can make friends with people I may never meet or I can enhance my current friendships by having an ongoing conversation via social media.
…and bad.
Community is not an inherently good word.
Communities can perpetuate destructive behaviors like self-harm, eating disorders or cyberbullying. Pro-ana/pro-mia blogs encourage individuals to "stay strong" and lose more weight, and what's worse is the solution hasn't been found yet. Do we silence them and risk hindering their recovery? Or do we allow these communities to remain as an outlet that may trigger others? Cyberbullying remains a rampant problem that still doesn't get all the attention it deserves and, thus, still results in many young children's depression and suicides as other young people gang up on one another. So while we see all this positivity, social media can be powerful in an ugly, destructive way as well.
Social media can teach you…
Use Twitter to get your news and keep up to date on the latest happenings as they happen. Watch YouTube videos and learn about other people's lives, cultures or just learn from their own set of skills. Get fit in a non-intimidating way. Or, to reference my last post, pay attention to what your fans are saying; hear your audience.
…or limit what you learn.
Filter bubbles and clickbait keep us stuck in an ongoing cycle of only seeing the content we want to see, the things that will move us or inspire us, by dumbing down headlines for us college kids because they know we'll click on them. The virality of a post will matter more to some sites than the actual quality of the content they're sharing with us. News, as in journalism found in the New York Times or CNN, and viral content are not interchangeable terms. If my newsfeed and timeline are inundated with this type of content, I worry that I'll miss out on what's going on in the world, the current events.
All of the endless possibilities (good and bad) of social media absolutely blow my mind. We are experiencing a constantly changing medium that I'm sure the next MI621 class will discover even more uses for. So, for my final words,
I'll leave you with this.
With social media, our world expands. We can be heard by anyone. Let's make sure what we put out there is worth listening to.